Introducing Our Latest Feature: Network Event Alerts
Network Event Alerts is accessible for Professional and Business Plan Subscribers.
Discover the Power of Network Event Alerts
Stay ahead of the curve with our brand new functionality - introducing Network Event Alerts. Our cutting-edge system is designed to keep you informed about crucial network events, empowering you to take proactive measures and ensure the security and stability of your digital ecosystem.
What Are Network Events?
Network events encompass a broad spectrum of pivotal incidents that possess the potential to significantly influence your online operations. This encompasses an array of situations, ranging from disruptions in Domain Name System (DNS) functionality to the more malicious occurrences like network attacks such as scanning and Address Resolution Protocol (ARP) spoofing. Rest assured, our vigilant alert system stands prepared to provide comprehensive coverage for these diverse scenarios. Its role extends to offering real-time notifications, ensuring you're promptly informed about critical system alerts.
This includes instances such as the expiration of Transport Layer Security (TLS) and Secure Sockets Layer (SSL) certificates, as well as the identification of self-signed certificates. In this ever-evolving digital landscape, our commitment extends beyond the ordinary; we diligently safeguard your credentials. Through advanced detection mechanisms, our system is finely attuned to recognize instances where sensitive information, be it plain or hashed credentials, is being transmitted over networks devoid of secure sockets layer (SSL) protection.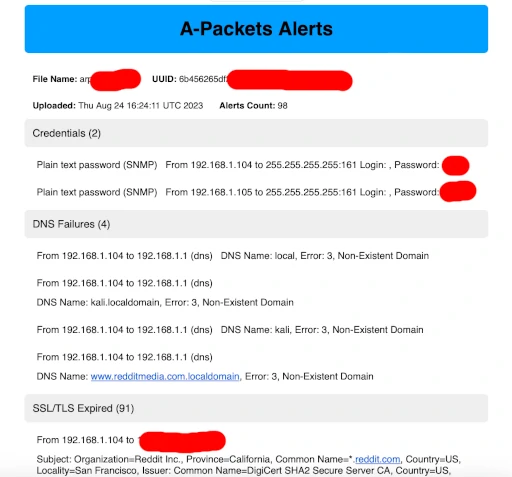 For the Professionals and Visionaries
This exclusive alert feature is available for our Professional users (restricted version) as well as those subscribed to our Advanced plans. We understand the importance of offering tailored solutions that cater to your specific needs. With Network Event Alerts, you gain a vital tool to fortify your network security.
Take Control with Custom Alerts
You're in control of your alerts. In your user settings, you can easily configure category alerts to receive timely email notifications. Whether it's DNS failures, attacks, or infrastructure issues, you'll be the first to know. Our goal is to empower you to take swift actions against suspicious activities and potential data leaks.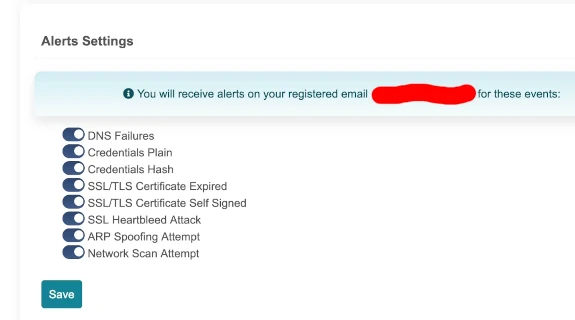 Seamless Integration, Instant Notifications
Our system seamlessly integrates with your workflow. If you utilize our API to upload pcap files by schedule, you'll automatically receive alert notifications for the events you select. This functionality ensures that you're immediately informed, allowing you to stay vigilant against any unforeseen network anomalies.
Stay Informed, Stay Secure
Network Event Alerts isn't just a feature – it's your gateway to a safer and more resilient digital environment. Whether you're concerned about network disruptions, security breaches, or infrastructure vulnerabilities, we're here to provide the insights you need to act decisively.
Elevate your network security to new heights. Choose Network Event Alerts today and take charge of your digital landscape like never before.